Recruiting: A Well-Oiled Machine
7/17/2019
by Rusty Stetzel, Rochester Service Center Manager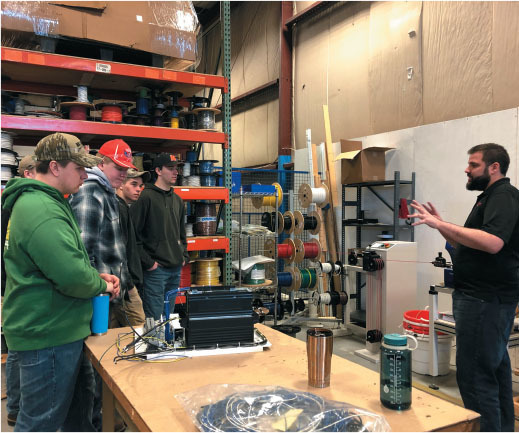 Say the word "technician" and immediately some people conjure up an unfavorable image of someone with a dirty uniform working in a decrepit building with junk cars and rusted parts everywhere. The stereotype is strong, and the industry is aware. While we know it's not reality, the image is not one that leads parents to prefer it as a solid career choice for their children. It's also not an image that young students see as leading them on a lucrative or rewarding career path, therefore, it leaves our field with a systemic gap of needing qualified technicians and no one wanting to explore those opportunities.
I wanted to bring awareness to future technicians of what it's really like to have a career as a technician with a reputable company and sought out to do something to address this image obstacle head-on.
I first reached out to the local BOCES in Mexico, NY, where I met with Carol Taormina, work base learning coordinator, with the idea of introducing students to the everyday life of a technician. Together, we coordinated the ability for students to be exposed to the field, up close and personal.
After a successful conversation with BOCES, I then contacted several other local businesses in the area to see if they might also be interested in helping to form a collaborative alliance. Just as I suspected, many other companies were feeling the same, and so my list of like-minded business partners quickly began to grow.
Dave Holzwarth, Tracey Road Equipment, Inc.; Ray Gale, Gypsum Express, Ltd.; and Brad Stone, N.E. Controls, were "all in" on addressing the challenge with me. After coming together in a few brainstorming sessions, we were able to plan a two-day event that enabled about 50 students to see for themselves.
On March 26, the heavy equipment and CDL technicians visited Tracey Road Equipment, which is the local Freightliner and Western Star dealer. The students then visited Gypsum Express, a leading trucking company with more than 650 tractors.
The next day, the industrial and electrical technicians visited PENN Power Group, where Kurt Schultz, rental sales manager, provided a presentation to show them the ins and outs of a generator and how it functions. They were given a tour of the facility and were able to see each department, asking questions along the way. The students then went on to visit N.E. Controls, which designs and manufactures top quality controls panels and systems.
Each facility offered students the opportunity to see, firsthand, what a workday in the field would be like. They were able to meet with other managers and take part in discussions on what it takes to work there as well as what each company has to offer.
I look forward to continuing with these events, and am hopeful it helps spark the initiative in these young students because they are the future for all businesses.
With the shortage of technicians and the standard stereotypical image, I and my business partners feel it is extremely important to reach out to the younger generation and not just tell them, but show them, what a career as a technician is like. Along with the most recent advancements in technology to help assist with daily activities, top-notch hands-on training shows students that they can have a successful career as a technician with an education that extends far beyond a college lecture hall.